Montreal

IT solutions since

1987

 
What is
ERP
and how does it
work
?
ERP systems collect and organize key business information and help organizations run lean, efficient operations. ERP software that's tailored to meet the needs of an individual business pays major dividends, making these systems a critical tool for companies across industries and of all sizes. At its core, an ERP is an application that automates business processes, provides insights and internal controls.
ERP systems unify critical business functions like finance, manufacturing, inventory and order management, customer communication, sales and marketing, project management and human resources. One major feature is detailed analytics and reporting on each department. ERP can generate major time and financial savings by providing organization-wide visibility.
ERP software improves communication and collaboration as well because workers can check on the status of other departments to guide their own decisions. ERP systems deliver the most value when a company has modules for each major business function and ensures timely, accurate data entry. An ERP is also an asset when it comes to planning and coordination.
The main task of an ERP implementation is building a single software solution to handle, for example, finance as well as human resources warehouse management, manufacturing, distribution, etc… Each of those departments typically had its own computer system optimized in a particular way that the department does its work. ERP combines them all together into a single, integrated software application that runs on a single database so that the various departments can more easily share information and communicate with each other.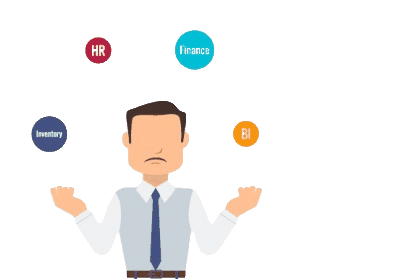 Is ERP only for finance and accounting?
While financial management and accounting are important ERP functions, the system's capabilities are far broader. It can automate and improve purchasing, inventory and order management, manufacturing project management, workforce management, sales and marketing, and other tasks.

Why do businesses adopt ERP?
ERP software has become a vital tool for businesses because it helps them save time and money. An ERP, in addition to automating processes, provides company-wide insight and information that informs executives and managers about where their employees should focus their time and attention, which may include addressing current issues.

What's the difference between an ERP system and a material-requisitioning system (MRP)?
Manufacturers employed an MRP, or material resources planning, system as a forerunner to ERP to better prepare for production runs. MRP systems, which handled manufacturing-related duties like procurement and inventory tracking, are now simply one part of today's ERP systems.

What is two-tier ERP, and how does it work?
Larger firms with subsidiaries, independent business segments, or regional offices have embraced the two-tier ERP method. Instead of being forced to use the traditional ERP, these business units or offices employ a less resource-intensive ERP—often a SaaS solution—that is integrated with the Tier 1 system.
What are the benefits of a cloud-based ERP system?
Many of the benefits of cloud ERP can be summed up in two words: lower expenses and fewer problems. A cloud solution is typically less expensive and faster to develop, with lower post-implementation costs because the vendor handles all maintenance and upgrades. Because the provider maintains all hardware, a cloud-based solution may also effortlessly support your growth.